Return to Previous Page
Index to Confederate Veteran Magazine
published from 1893 to 1932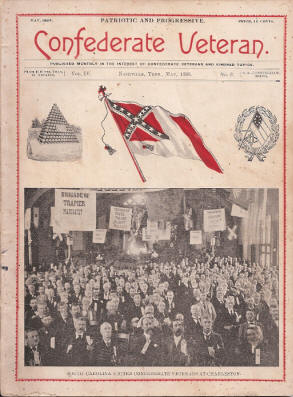 Confederate Veteran is a magazine about veterans of the Confederate States Army during the American Civil War of 1861-1865. The magazine can be an important research source.
The content of the index depends on the type of article written. For example, an obituary might include:
Name of veteran
Rank and service unit
Date of death
Age at death
Place of death
Volume and page number in the Confederate Veteran Magazine
Additional information.
There are articles of battle descriptions and other historical events as well as items of genealogical interest. There are lists of subscribers for Confederate memorials wherein you can locate an ancestor in a certain time and place.
There are many photographs, anecdotes and personal histories.
http://onlinebooks.library.upenn.edu/webbin/serial?id=confedvet
After choosing the volume of the magazine at the above site, you will be taken to the Archive.org display of the volume . Use the "Search Inside" option on the right side in the middle to search within the volume.
There are several download options at this site.